Philips Lighting launch 100W LED retrofit lamps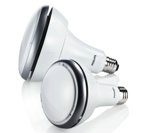 Philips Lighting diffused BR LED lamp
Philips said it will begin shipping a 100W-equivalent lamp in its EnduraLED line in the Q4 of this year. The new lamp looks virtually identical to the 60W and 75W EnduraLED retrofit lamps that are broadly available. The family uses remote phosphor technology and the lamps have an orange/yellow tint when not powered on, whereas the GE lamps look white. Both the Philips and GE products have cooling elements that extend up onto or into the globe making them easily distinguishable from incandescent bulbs.
The new Philips lamp uses only 23W and produces almost 1700 lm according to Philips. The 2700K lamps will have a CRI of 80 and will be dimmable. Philips has not priced the lamp as yet, but said that the lamps will save buyers $211 over a lifetime of 25,000 hours.
Philips also offers PAR and BR type lamps in its EnduraLED product line, and at Lightfair will introduce new models that include a technology called Airflux that eliminates the heat sinks that are typically prominent in LED-based PAR and BR retrofit lamps. Philips hasn't revealed the details of Airflux yet, but we expect to learn more about it at Lightfair later in the week.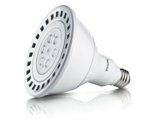 Philips Lighting directional PAR LED lamp
The new lamps include a choice of three color temperatures and beam angles. Philips said the lamps save 75% in energy relative to PAR halogen lamps or BR incandescent lamps. The PAR retrofits are directional whereas the BR lamps provide diffused light with a new optical design.
"Airflux lamps blend into existing white track and recessed fixtures, and offer equal light quality to that of traditional light sources – attributes that lend themselves to a more pleasing environment in retail stores, hotels and restaurants," said Ed Crawford, general manager of lamps, lighting electronics and controls for Philips.
Lightfair will see a number of companies introduce SSL retrofit lamps that are equivalent of 100W incandescent bulbs and GE Lighting and Philips Lighting announced such products before the exhibits opened.
Information from the "LED's Magazine 8 May 2012".