Wiser iPad & iPhone Control
C-Bus Clipsal Wiser interface for iPad iPhone Smart devices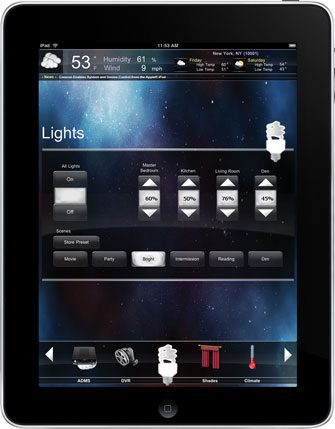 Wiser by name, wiser by nature
Your household appliances, your lights, your computers, your mobile phones… all used to work independently even in smart homes. Wiser Home Control is the first to truly integrate your  electrical, multi-media and telecommunications technologies into one single user-friendly solution.
Don't just be smart, but run your home with wisdom.
Take control by simply being Wiser
Schneider Electric's C-Bus Wiser Home Control makes technology in your home easy by providing seamless control of music, home cinema, air-conditioning, lighting, sprinkler systems, curtains and
shutters, security systems… you name it. You get the same look and feel for everything, any time, anywhere; from a light switch, a touch screen, a home computer, or even from your flat screen TV,
as you're about to watch a movie You can turn on your air-conditioner from your mobile phone on the way home, or check that everything is turned off over the Internet when you get to work.
So take control and enjoy every minute of your life by simply becoming Wiser!
It's simpler than you think!
Wiser is a range of products to join the Schneider Electric C-Bus family, delivering a whole new level of functionality and connectivity across your home.
This Wiser Home Controller seamlessly connects different technologies such as lighting control, security, air-conditioning, audio-visual equipment, media players, irrigation systems, motorised blinds and curtains, and more… and turns them into a single user-friendly solution.
Consistent and intuitive user interface
In the past, you needed to learn how to operate a whole lot of different, and often bewilderingly, complicated equipment. One controller for your air-conditioner, another for your security system, yet another for your irrigation system, and still more remotes for your TV and audio equipment… It was all too hard!
Now, Wiser sets you free from this trouble with our consistent and intuitive user interface! You can control everything you want to operate with a touch – lights are turned on or off with a light bulb icon, sound systems via a speaker icon and irrigation by a tap icon… things really don't get any simpler!
Changes without call outs
When you want to change anything, you can allow your installer to give you instant service without even stepping into your home via the secured remote access.
The comfort and convenience that comes from complete control
With Wiser, you can operate almost any device in your home, from almost anywhere via touch screens, wall switches, web tablets, remote controls, mobile phones, computers, even via your TV! What's more, not only can you do it while at home, but also via the Internet or your mobile phone
while you're away. Whatever you want, whenever you want it, wherever you are!
Outside cooking a barbeque and want to listen to some music? Simply grab your mobile phone and turn on your multi-room audio system! Or, if you're sitting down to watch a movie, and decide that you're too cold, use your remote control, and adjust the temperature via a Microsoft™ Media
Center menu on your TV.
Wiser isn't only about giving you complete control… With Wiser, your home can make things happen automatically that perfectly sync with your daily routine and lifestyle. So get set to gently wake up on weekdays as your bed lamps and music fade up slowly, your curtains open and your alarm system deactivates itself from night mode. When you're heading to work, see and hear your lights turn off, your blinds close, your music fade and your air-conditioner power down when you simply press the 'Goodbye' button.
Entertainment that follows you around
Transform your living room into a home theatre. Let your favourite music travel with you.
Get set to zone out with a movie. If you want to enjoy the best picture quality, achieving perfect lighting ambience is every bit as vital as how meticulously you position your TV and speakers. So simply activate 'Home Theatre' scene to automatically close the curtains and eliminate external light, scroll down your projection screen, turn on the disc player and turn off or dim down different
lights! This is all easily achievable with just one touch of your remote control or web tablet.
You can also turn on and off audio-visual devices, play, pause, stop or rewind the movie by simply using your TV screen or MicrosoftTM Media Center. You can choose the 'Intermission' scene for a break where lights brighten up and the movie pauses and then resume your movie with the 'Home Theatre' scene with only a touch of a button.
With your Wiser-connected multi-room audio system, your favourite music will travel with you from the family room to the swimming pool and every point in between without skipping a beat.
Surround yourself with peace of mind
Safety and security are the two key qualities that will ensure you achieve all-inclusive peace of mind in every corner of your life.
Because Wiser interconnects your lights, alarms, web cameras, mobile phones and the Internet, you can live life safe in the knowledge that your home and family are protected at all times. If your alarm does activate, Wiser will turn on your lights to deter any would-be intruders and automatically send you a priority email alert.
To make doubly sure everything is OK, you can even check your web cameras via your mobile phone or computer. If it's a false alarm, simply turn off your lights and reset the alarm.
It all adds up to a whole lot of peace of mind and very little disruption to your day.
The limitless possibilities that open up when you are fully connected
Remote monitoring and control of your home from anywhere at anytime. Wiser also connects you to the world far beyond the physical boundaries of your home!
With Wiser, you can use your mobile phone to monitor if all is well at home. Remote monitoring and control of all your devices is no longer confined to science fiction. You can even further enhance your sense of safety by remote video monitoring your home via your mobile phone or office PC.
Wiser Home Control also gives you an unrivalled ability to stay in touch with the world outside your front door. The system will notify you if there are new emails from your friends or workmates without having to switch on your PC. To keep you one step ahead of changing trends, your wallmounted touch screens or web tablet will also display the latest news, financial and weather updates.
You can stay close to your loved ones at home and the world outside no matter where you happen to be!
Information provided by Schneider Electric (NZ) Ltd.