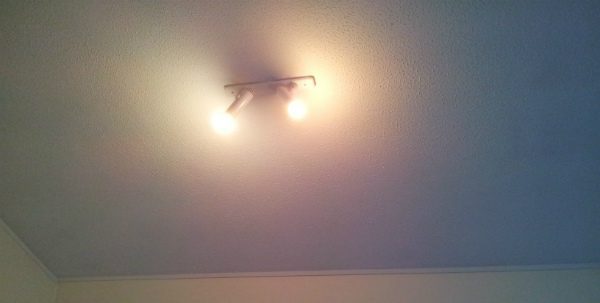 LED Lighting Power Saving Calculator
The Total Support downloadable LED power saving calculator will enable you to easily calculate the power savings that can be achieved by installing Philips LEDbulbs.
This free $0.00 calculator enables you to input the number of LEDbulbs and select the hours per day to give you a direct comparison with the incandescent Light-bulbs that you are currently using.
You can also input the actual price per kWh (kilowatt hour from your power bill) to get a true cost of running your lighting.
The free $0.00 calculator also includes a comparison for the cost of purchasing and running your LEDbulbs and the cost of purchasing and running your Incandescent Light-bulbs. This is over the 15,000 hour life of the LEDbulb.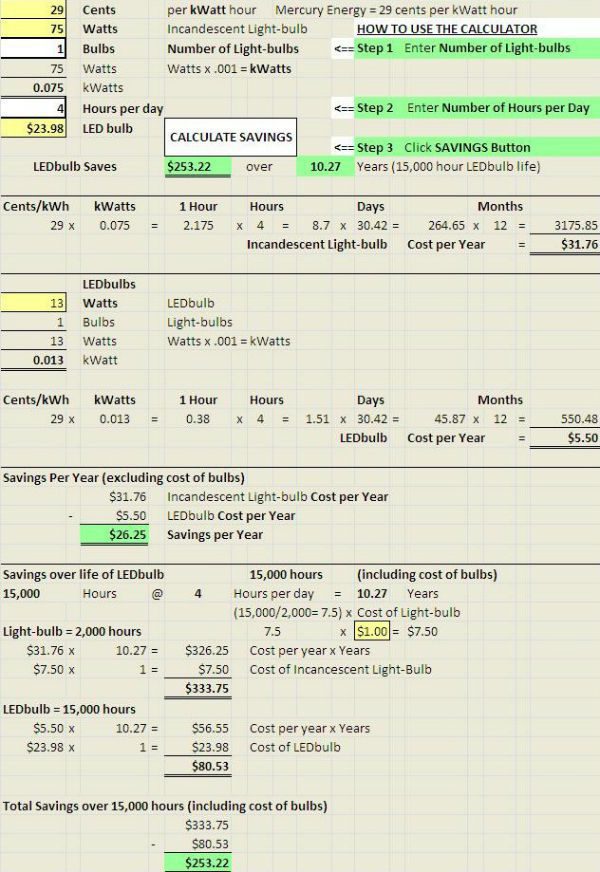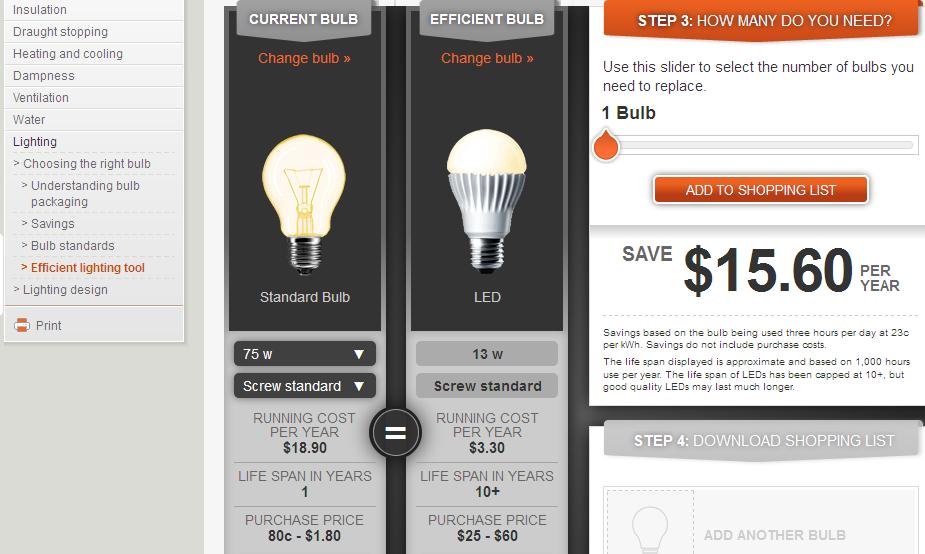 ⇒ Energywise on-line Calculator
This calculator has excellent graphics. However, it does not allow you to enter your cost per kilowatt hour or the number of hours for your lighting. They have used a kilowatt hour value of 23c per kWh and have not included the purchase price for the bulbs. This is stated on their website. You must select an old Light-bulb before you can select your LEDbulb on the energywise website.
The energywise website states that the purchase price of a 13 Watt LED bulb is between $25 – $60. This makes the Philips LEDbulb an excellent buy at $23.98. Bunnings July 2013 catalog price.
The Philips 13 Watt LEDbulb 1055 Lumen output appears to be brighter than the old 75 Watt incandescent Light-bulb. The warm white (3000k) colour is very close to the colour of the old incandescent light-bulb as you can see in the picture above. The Philips 13 Watt LEDbulb is on the left. The 75 Watt incandescent Light-bulb is on the right.
The 13 Watt Philips LEDbulb is an ideal replacement for the old 75 Watt incandescent light-bulb. The savings made in the first 8 to 12 months will normally cover the purchase price of the LEDbulb. You will continue to save power for the remainder of the LEDbulb's 15,000 hour (10 year) life expectancy.
The more LEDbulbs you install the greater your savings will be.