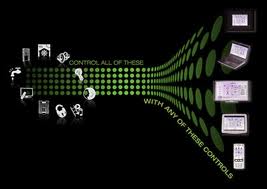 Smart Home controlled by Clipsal C-Bus
Your home is about living. With a Clipsal C-Bus automation system your house can become a smart home, providing an enhanced lifestyle of entertainment, convenience, comfort and security. Imagine pressing a "Welcome Home" button on a remote control as you pull into your driveway, and having your pathway, front porch and hallway lights turn on. Your air-conditioner begins to warm or cool your living room, and your favourite music starts playing throughout your house. That's a smart home!
And that's just the beginning. Imagine a "Goodnight" button that turns everything off when you go to bed, and a "Watch DVD" button that activates your home cinema, closes the blinds and dims your lights when you watch a movie. That's smart living!
The best news is, you can have it. Whether you are building or want to enhance your existing home, with Clipsal C-Bus and C-Bus Wireless anyone can enjoy the benefits of a smart home. You can even start small and add to the system as your lifestyle changes.
It's your home – make it a smart home, and enjoy smart living!
Welcome Home Scene
You'll love coming home more than ever. Simply press a "Welcome Home" button when you arrive and the system will create the perfect environment by turning on selected room lights, air-conditioning, and music. You could also have a "Goodbye" button.
Goodnight Scene
Forget going around your house and turning off all the lights. Simply press the "Goodnight" button on your remote (or switch next to your bed) and all lights will fade off. Need to get up during the night? Hit another button to turn on lights dimmed to half brightness so as to not disturb the rest of the household; perfect for getting ready for that early flight or feeding the baby in the early hours.
Cinema Scene
Recreate that cinema experience in your very own lounge room. Get comfortable as you sit down to watch a movie and adjust the lights to the exact level you want. Close the motorised curtains and play a DVD, all via remote control.
Party Scene
Friends over for dinner? Press a "Party" scene button and welcome your guests with outdoor and entrance lighting, activate water features, soft lighting at the dinner table, air-conditioning and even ambient music.
Clipsal Saturn Range of Power Points complement the C-Bus Range
A seamless electrical solution for your home or business.
Perfectly match your chosen C-Bus automation range with the equivalent 230V electrical
accessories.