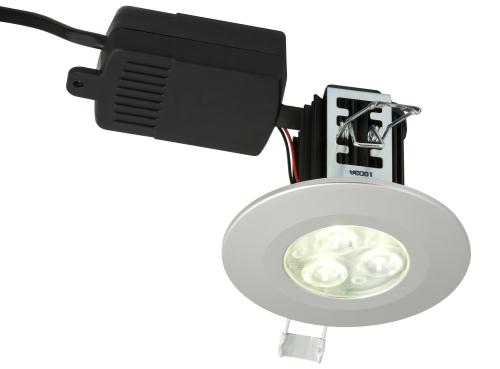 This EvoLED fitting has an IP65 water resistance rating. This means that it is safe to use this LED light in wet ares including "zone 1" and "zone 2" bathrooms, kitchens, laundries and even exterior applications such as lighting under the eaves.
The fitting effectively seals against the ceiling preventing any hot air or moisture from leaving your room and entering the roof space.
HALERS Lighting. SAFE efficient LED lighting
⇒ EvoLED
How many lights are required for your room?
How Many Lights – Standards AS/NZS  1680.1:2006
The How Many Lights website is a very useful source of information on the "Recommended maintained luminance" for the activity/interior.
For example a value of 40 Lux is recommended for areas "with Interiors rarely visited with visual tasks limited to movement and orientation" such as corridors or walkways.
A value of 1600 Lux is recommended for areas that are "Exceptionally difficult " such as Finished fabric inspection; assembly of minute mechanisms, jewellery and watchmaking.
There is also a table recommending the Watts/Square metre
AS/NZS 4243.2:2007 Table 1
Covered car park = 4 W/m2
Cafeteria, fast food outlet = 8 W/m2
Warehouse = 8 W/m2
Hotel = 10 W/m2
Hospital = 12 W/m2
Office space = 12 W/m2
Supermarket, shopping mall = 16 W/m2
Laboratory = 17 W/m2
Workshop = 18 W/m2
LZ LED lighting Website. Tomorrows Technology…Today
LEDs Magazine website is an excellent resource
Wifi LED control Thermal Solution Resources is a full service product design firm bringing leading edge solutions to the LED, Solar and Electronics industries. With decades in Thermal, Electronic, LED, Material and Product design along with a supporting suite of manufacturing resources.
Select the "News" menu option on the LEDs Magazine website for the latest developments in the LED industry.